Airport Operations Building Under Construction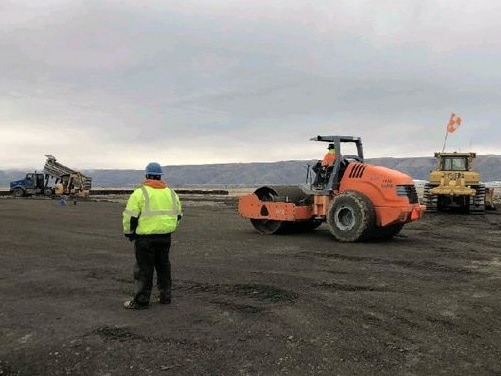 The  gold, ceremonial ground-breaking shovels had yet to be stowed when the roar of big diesel engines broke the morning's stillness November 28th, 2017.  With that, construction on the Lewiston-Nez Perce County Regional Airport Operations Building (AOB) was underway.  Prime contractor Ginno Construction of Coeur d'Alene and a slate of subcontractors including Lewiston's Albright Construction immediately moved onto the field in what would soon look like a military exercise with dinosaur-sized earthmoving equipment.
"Building design took years," said Stephanie Morgan, Airport Manager.  "But once we got Federal Aviation Administration (FAA) support for a combined operations and Aircraft Rescue and Fire Fighting (ARFF) station, things began moving."
The $6 million complex will put more than 13,000 square feet under one roof, housing two large ARFF vehicles, one or two diesel-powered snow brooms, and another two or three plows.  Select administrative and airfield maintenance functions will also be moved to the new location on the airport's south side.
"The new facility will take a little over a year to complete," said Morgan, "about the time we take delivery of our new ARFF equipment."
Airport Authority Board Treasurer Pat Nuxoll added, "And the FAA's contribution of well over $4 million to the project sure made the finances work a lot easier,"
The Lewiston-Nez Perce County Regional Airport provides quick, cost-effective, convenient air service for North Central Idaho, Southeastern Washington, and Northeastern Oregon.  Daily flights are available to Seattle, Boise, and Salt Lake City with connections anywhere in the world.